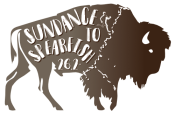 Sundance to Spearfish Marathon
Race Date - September 10, 2023, Sunday

Time Limit: 6 hours

Start Start Time 6:45 am (Sunrise) at Cement Ridge, WY at 6,624 ft elevation

Finish – In front of Frank R. Brady Park, 510 N Meier St, Spearfish, SD at 3,654 ft elevation
Description: The best the Black Hills of Wyoming and South Dakota have to offer - Almost entirely downhill except for one tough hill from mile 2.00 to 2.56 miles with 169 ft gain. First 12 miles from Cement Ridge to Savoy are on very runnable improved gravel roads, covers scenic mountain meadows, valleys and canyons, and drops 1,606 ft. You will pass the winter film site for "Dances with Wolves" at mile 9.35! The remaining 14 miles is hardtop and descends Spearfish Canyon Hwy (Rt 14A, a National Scenic Byway) to Spearfish, a route shared by the Leading Ladies Marathon and a drop of another 1,364 ft. This extremely fast course will be 1 of only 2 USATF Certified Courses (=Boston Qualifying Course) in Wyoming and it counts for either Wyoming or South Dakota – Your Choice!
Travel: Plan to stay in Spearfish, SD and not in Sundance, WY.
Rapid City, South Dakota is just over an hour away from Spearfish, where the race will end. Denver is about 6 hours, Sioux Falls is about 5.5 hours.
Accommodations: Many choices in Spearfish ranging from less than $50/night for a clean room to over $250 for luxury accommodations.
Waterstop Locations/Aid Stations:
1) Mile 2.56 at top of hill just past intersection of dirt road from right 2) Mile 4.35 by old cabin on left with tin roof
3) Mile 6.2 on Tinton Rd between Wagon Canyon Rd and Roughlock Canyon Rd
4) Mile 9.35 at Dances with Wolves pulloff.
5) Mile 12.1 at corner of Roughlock Road and Spearfish Canyon Hwy 6) Mile 14.5 on wide section to left of white line
7) Mile 16.65 opposite pulloff on other side of road
8) Mile 20 at beginning of pulloff
9) Mile 22.5 at beginning of pulloff
10) Mile 24 at end of driveway to trail parking
Packet Pick-up: Saturday, September 9th 1:00-5:00pm Holiday Inn 305 N. 27th Street, Spearfish, SD 57783, Spearfish, SD.
Travel to Start: We will provide transportation to the Start from Spearfish for those runners needing a ride to the Start.
Important: If you have a driver who can drop you off at the Start, you are welcome to drive there. Your driver cannot park at the Start but they must leave the start area due to capacity of the parking lot.
Race Swag: Finisher Medal, quality T-shirt, swag bag and Age Group Awards.