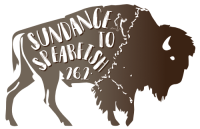 The best the Black Hills of Wyoming and South Dakota have to offer!  Sundance to Spearfish Marathon is almost entirely downhill except for one hill from mile 2.00 to 2.56 miles with 169 ft gain.
First 12 miles of the Sundance to Spearfish Marathon starts from Cement Ridge (located inside the Wyoming boarder) to Savoy (South Dakota) are on very runnable gravel roads. You run along scenic mountain meadows, vast valleys and canyons, and drop 1,606 ft. You will also pass the winter film site for "Dances with Wolves" at mile 9.35! 
The remaining 14 miles is hardtop paved road and descends Spearfish Canyon Hwy to Spearfish, South Dakota a route shared by the Leading Ladies Marathon and a drop of another 1,364 ft.
If you are looking to capture Wyoming or South Dakota for one of your marathons, make Sundance to Spearfish your next marathon!  See you in September!